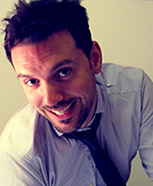 Fabio Formosa
Website
00100010 (34)

Pisa, Tuscany, Italy

Software Engineer

Java, futsal, Thé

To photograph, Chopin, Dance with wolves

Spotify, microwave oven, my android
Intro
Laureato con lode in Ingegneria Informatica all'università di Pisa, mi occupo dal 2009 di progettazione e sviluppo di architetture Java Enterprise.
Conosco i più diffusi framework JS/Java e lavoro indifferentemente sia lato frontend sia lato backend.

Nel tempo libero approfondisco lo studio di nuove tecnologie e seguo le community di settore: ho partecipato a 1 JavaDay, 2 CodeEmotion e dal 2013 sono membro di coders TUG (tuscany user group).
Seguo con curiosità i dibattiti attorno #noestimates e in generale sulle metodologie agili.

Nutro profonda ammirazione per i leader che sanno generare entusiasmo, che usano la preposizione "noi", che rimangono fino all'ultimo a fixare insieme il bug.

Mi riconosco in uno spiccato spirito di squadra. Il team management è la mia aspirazione, diventare un leader autorevole la mia ambizione.
Esperienze Lavorative
JEE Developer

2009 - Today

Liberologico Srl - ICT Solutions - Pisa

In Liberologico I develop Java Enterprise architectures and follow the entire software lifecycle, from analysis of specs until to product release.

Over time I gradually held positions of increasing importance and responsibility.
In the past, I was a jUnit tester, an android mobile developer, I carried out help-desk & debugging activities, and after several years of experience within a Java development team, I have become a senior developer.
Today I also design new enterprise architectures: I define the ER model, the deploy diagram, and I adopt tech solutions.

Since I have become manager in a few projects, I also contribute to estimate the time and the cost of realization and also I assist the customer with regard to the requirements gathering, the testing, the maintenance of the product and the training about it.

In Liberologico, I have gained experience in the field of CRM systems, and smart city mobility.
I had the opportunity to interact with clients such as Fater SpA (italian leader in personal care market, and owner of the brands Lines and Pampers), Zingarelli Publisher SpA and Panini SpA so I made independently the Android app "Comix" (1st version) which now has 45,000 downloads in Google Play.
Progetti
INeS Cloud

INeS is a suite of software modules oriented to smart mobility and smart parking. Through INeS is possibile to manage and to sell park tickets, to issue access permits in restricted areas, to apply sanctions at vehicles, to monitor flow sensors and park sensors.

I designed the re-engineering of the legacy platform.
I created a new Java EE project that solved tackling scalability and security issues and that was modular and pluggable.
I applied Spring-Security Framework for authentication and authorization, with CAS Integration module to interface the opensource single sign-on service (Jasig CAS Server).
For frontend components I adopted AngularJS, RequireJS and Bootstrap as graphic layout.

ERMES

ERMES is a management system ordered by third party companies working in tannery industry. Through ERMES is possible to record the working activities carried out in factory, to track flows of production batches, to monitor process costs and maintenance on equipment, to analyze performance indicators to evaluate the competitiveness, the efficiency and the financial reliability.

In ERMES project, I followed the whole developing cycle: spec harvest, data modelling, implementation, test and trial. I dealt with backend and frontend. I employed MVC client-side with Dojo Framework.
Today, I'm the only manager for customer, I provide help desk support and upgrade service.

M3P

Through M3P a comany can create marketing campagins and profile own consumers. Basing on gamification concept, the platform allows to handle contests with prizes over several participation channels (SMS, IVR, web site, facebook, mobile app).
On viewpoint of DEM (Direct Email Marketing), it's possibile to send communications to consumers grouped by cluster, on the basis of behavioral criteria of consumption.

Developing M3P, I got used to queues (ActiveMQ) and to ESB (Apache ServiceMix). I designed data model using the CASE tool Visual Paradigm. I deepened the app stack: Spring Framework / Hibernate / Maven.
Istruzione
Degree in Computer Science

2000-2003

University of Pise

Degree in Computer Science,
grade 110 magna cum laude

CISCO CCNA Course

2004

Cisco Networking Academy

Cisco Certified Network Associate (CCNA) certifies the ability to install, configure and troubleshoot route, switched networks, WAN.

Master degree in Computer Science

2005-2009

University of Pise

Master degree in Computer Science,
grade 110 magna cum laude.

Enalbed to Italian Engineer Register

March 2010

Engineer Association - Pise

Enabling awarded upon passing of State Examination.
Stay hungry, stay foolish

Speech by Steve Jobs at Stanford University

I'm not part of that sect of fanatics that Steve Jobs is a god or a saint.
However, I have seen so many times the speech of Steve held at Stanford University, in 2005, to know it by heart.

And the only way to do great work is to love what you do. If you haven't found it yet, keep looking. Don't settle [...] stay hungry, stay foolish.
It made an impression on me, and since then, for the past 33 years, I have looked in the mirror every morning and asked myself: "If today were the last day of my life, would I want to do what I am about to do today?" And whenever the answer has been "No" for too many days in a row, I know I need to change something.
Death is very likely the single best invention of Life. It is Life's change agent. It clears out the old to make way for the new

Achieving Your Childhood Dreams

Randy Pausch Last Lecture | Carniege Mellon University

A mocking destiny unites the life of Randy Paush to that of Steve Jobs
Randy was a computer scientist in USA. He was a professor at the University Virgin at first, then an engineer for Electronic Arts (EA), and Walt Disney, then a consultant for Google.


In 2007 He had a pancreas cancer diagnosed. He died a year later at the age of 48 years
"The last lecture" held at Carnegie University is his testament. The video lasts more than an hour, but well worth it to watch it!


I'm dying and I'm having fun. And I'm going to keep having fun every day I have left. Because there's no other way to play it.
the brick walls are there for a reason. The brick walls are not there to keep us out. The brick walls are there to give us a chance to show how badly we want something. Because the brick walls are there to stop the people who don't want it badly enough. They're there to stop the other people.
Do not complain. Work harder. Do not give up. The best of the gold's at the bottom of barrels of crap